Testimonials
Their jewelry is high quality, authentic and reasonably priced! I highly recommend The Turquoise People!

Susan H.
The Turquoise People are so helpful and shipping was fast! I love my turquoise finds and look forward to many more!

Crystal G.
Five stars. The best place to get authentic turquoise jewelry.

Mary Ann V.
Awesome people and beautiful jewelry!

Jane D.
Amazing customer service! I definitely recommend purchasing from them.

Lynsie B.
Great experience! Great jewelry and great service!

Tara D.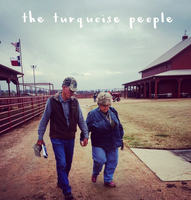 Leigh Ann and Gary (Cookie) Blair are The Turquoise People
Our business was formed to bring our customers and newly found customers beautifully handcrafted quality jewelry.  All fueled by our common passion and appreciation for the talent, skill and ageless designs being created while working with nature's own work of art.
SHOP NOW
It is a joy to launch our website to bring you "our customer" these stunning and many undeniably exquisite statement pieces which also include rare and vintage pieces of jewelry. We hope you too will find something that works with your own collection. We pride ourselves in being reputable dealers who will tell you the exact quality and description of what you are buying. 
.
Please know that all questions are encouraged, we want to be as helpful as possible in anyway. If unfamiliar with quality products some of the jewelry may seem pricey, but it is minimal when you consider the quality and longevity of the gems that you are buying. Our markup is extremely low in order to pass the savings on to our customers. We welcome all inquiries and look forward to assisting you with your next purchase. We are so very proud to launch the new website ­­­­­­­­­­­­­­"­­­­­­­­­­­­­The Turquoise People".  Please take a look and feel free to reach out to us with any questions. 
-The Turquoise People